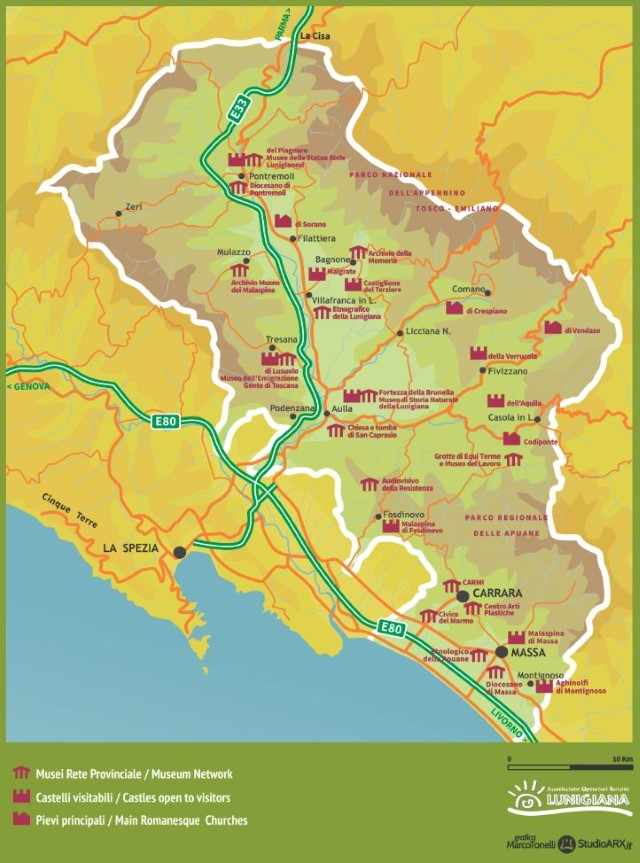 The Lunigiana valley is located in the far North of Tuscany and contains the River Magra and its tributaries. Its borders derive from an ancient Roman settlement and later the medieval diocese of Luni, which no longer exists. Most of the Lunigiana is in the province of Massa Carrara with the remainder in the province of La Spezia. To the East are the Apennines, to the West are the Ligurian mountains and to the South are the Apuan Alps. The most Northerly town is Pontremoli.
The seaside villages of the Cinque Terre (a UNESCO World Heritage Site since 1997) and the beautiful resorts of Lerici and Portovenere are about 50mins drive away.
The area contains one national park – the Parco Nazionale Appennino Tosco-Emiliano found to the North East of the Magra valley – and one regional park, the Parco Regionale dell Alpi Apuane which covers the mountain range to the South, source of Carrara marble. Although not a traditional cultural centre, there is a lot to see and the scope for outdoor activities in the mountains is substantial. A particularly attractive feature is that the mountain ridges are readily accessible and afford magnificent views both over the Mediterranean and towards the Po valley.
Accessibility is excellent. UK visitors to the area tend to fly into Pisa, Genova or Parma using Easyjet or Ryanair. As an alternative, some fly to Bergamo as Milan is only a few hours drive away. Autostrada A15 provides a direct link between La Spezia and Parma, whilst the A12 links La Spezia to Pisa and beyond. Rail services are reasonably frequent and there are stations at all the valley towns of significance.