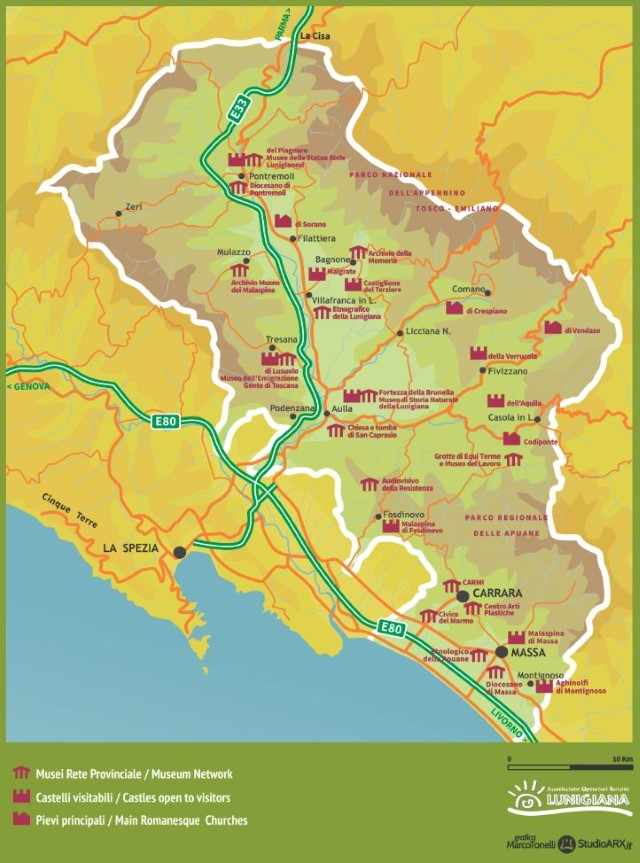 The Lunigiana valley is located in the far North of Tuscany and contains the River Magra and its tributaries. Its borders derive from an ancient Roman settlement and later the medieval diocese of Luni, which no longer exists. Most of the Lunigiana is in the province of Massa Carrara with the remainder in the province of La Spezia. To the East are the Apennines and to the West are the Ligurian mountains. The most Northerly town is Pontremoli.
The seaside villages of the Cinque Terre (a UNESCO World Heritage Site since 1997) and the beautiful resorts of Lerici and Portovenere are about 50mins drive away.

The Apennine mountains (as described by Eric Newby in his book 'Love & War in the Apennines') and the Apuan Alps, source of Carrara marble, run through the Lunigiana. See the lovely mediaeval village of Filetto with its antiques market and Bagnone with its plunging gorge. If you hanker for the sophistication of the city, try Parma, Lucca or La Spezia. Florence is just 2hrs drive away – even better, go by train!