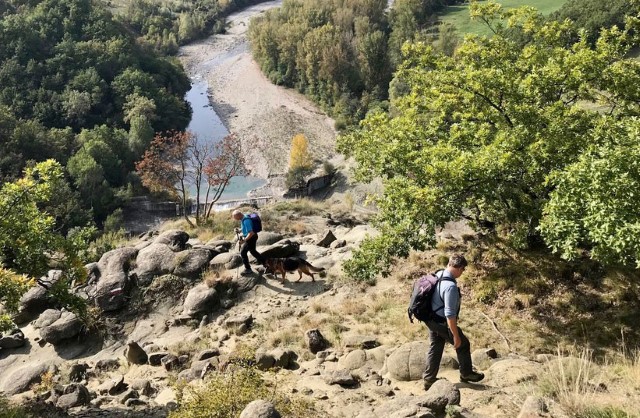 This is a 160km path, which can be traveled on foot or by bicycle, from Quattro Castella in Emilia Romagna to Sarzana in the Lunigiana. It crosses the Apennines, touches the Alpi Apuane and passes many castles, villages, churches, and areas of natural interest along the Enza and Magra valleys.
The route derives from a project carried out in 1993 by Giuliano Cervi and Daniele Canossini with the support of the Province of Reggio. For years, however, the route stopped at the Lagastrello Pass on the Tuscan-Emilian ridge. In 2019 CAI Reggio Emilia re-launched the route in collaboration with the CAI Sections of Fivizzano and Sarzana, thus ensuring that it was extended through the Lunigiana as originally intended.
The stages have been redefined and now number 11 to take into account the many changes that have occurred over the years on the ground
The web site for the route contains a wealth of material including: a description of the stages, images, GPX tracks, variants and shortcuts, and an interactive map.
The stages
Stage 1: From Quattro Castella to Canossa
• Length: 12.84 Km; Difference in height: +840 m; -470m; Duration: 4h: 30m
• Intermediate points: Bianello – Caverzana – Madonna della Battaglia – Grassano
Stage 2: from Canossa to Monte Staffola / Crognolo
• Length: 18.14 Km; Difference in height: +720 m; -805 m; Duration: 6h
• Intermediate points: Cerredolo dei Coppi – Vercallo – Barazzone – Pianzo – Trinità
Stage 3: From Monte Staffola (Crognolo) to Vetto
• Length: 13.77 Km; Difference in height: +745 m; -755 m; Duration: 5h
• Intermediate points: Borzano – Mulino di Chichino – Crovara – Pineto – Spigone
Stage 4: From Vetto to Castagneto
• Length: 19.36 Km; Difference in height: +920 m; -610 m; Duration: 6h: 30m
• Intermediate points: Gottano – Cereggio – Taviano – Camporella – Montedello
Stage 5: From Castagneto to Succiso Nuovo
• Length: 11.44 Km; Difference in height: +645 m; -410 m; Duration: 4h: 30m
• Intermediate points: Ponte Andrella – Fornolo
Stage 6: From Succiso Nuovo to Rigoso (Parma)
• Length: 14.14 Km; Difference in height: +705 m; -560 m; Duration: 5h
• Intermediate points: Miscoso – Lagastrello Dam
Stage 7: From Rigoso to Sassalbo
• Length: 18.19 Km; Difference in height: +735 m; -1070 m; Duration: 6h: 30
• Intermediate points: Lagastrello Pass – Torsana – Camporaghena
Stage 8: From Sassalbo to Càsola di Lunigiana (Massa Carrara)
• Length: 19 km; Difference in height: +550 m; -1100m; Duration: 7h: 30m
• Intermediate points: Mommio – Regnano / Pieve di Offiano – Castiglioncello – Vigneta
Stage 9: From Càsola to Monzone
• Length: 10 km; Difference in height: +650 m; -650m; Duration: 5h: 30m
• Intermediate points: Pieve San Lorenzo – Argigliano – Ugliancaldo – Equi Terme – Aiola
Stage 10: From Monzone to Fosdinovo
• Length: 11 km; Difference in height: +500 m; -300m; Duration: 7h
• Intermediate points: Isolano – Terma – Viano – Cecina – Marciaso – Pulica
Stage 11: From Fosdinovo to Sarzana
• Length: 11.5 km; Difference in height: + 254m; -719m; Duration: 4h: 30m
• Intermediate points: Gignago – Caprognano – Caniparola – Fortress of Sarzanello
Cycling route
The cycling route of the Sentiero dei Ducati largely follows the hiking route. It is divided into six stages (plus some variants) and has three connections to places accessible by public transport: from Reggio Emilia FS to Quattro Castella, from Comano (MS) to Passo del Cerreto and from Luni to Sarzana FS. The stages take into account the locations of available accommodation, the technical and athletic prowess of average cyclists, and the provision of sufficient time to visit the many places of interest along the route. The 6 stages are:
• Stage 1: Quattro Castella (RE) – Canossa Castle (RE)
• Stage 2: Canossa Castle – Vetto d'Enza (RE)
• Stage 3: Vetto d'Enza – Succiso Nuovo (RE)
• Stage 4: New Succiso – Fivizzano (MS)
• Stage 5: Fivizzano – Fosdinovo (MS)
• Stage 6: Fosdinovo – Luni Scavi and Sarzana (SP)