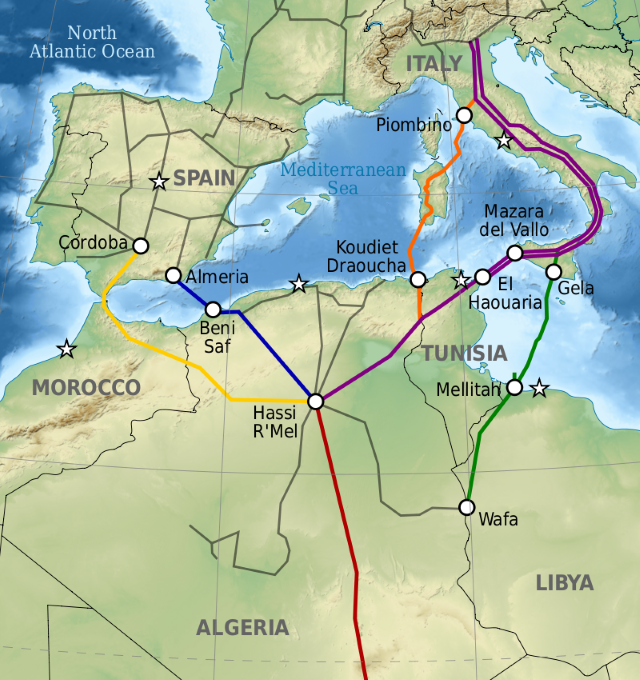 General position
Italy is the second-largest natural gas importer in Europe after Germany, and the third-largest consumer of natural gas after Germany and the United Kingdom. Natural gas imports were 2.3 trillion cubic feet (Tcf) in 2016, and dry natural gas production that year was 0.2 Tcf. Natural gas imports accounted for about 92% of the total natural gas supply in Italy.
Most of Italy's natural gas imports come from Russia via pipelines across Ukraine and from southeastern Europe. Natural gas sent by pipeline from Russia accounted for about 44% of Italy's total natural gas imports in 2016.
Italy has natural gas pipeline connections to Algeria and Libya across the Mediterranean Sea and to northern European producers via Switzerland. Russia remains the largest natural gas supplier to Italy, with a 44% share of Italy's import volumes in 2016. Pipeline imports from Algeria and Libya accounted for almost 37% of Italy's natural gas imports in 2016. Algerian natural gas shipments to Italy fell after 2011 because of lower Italian natural gas demand, sluggish growth in Algerian natural gas production, and higher Algerian domestic natural gas demand. However, Algerian exports to Italy rebounded in 2016, almost tripling from the 2015 level as a result of production from the new natural gas fields in Algeria. The Trans Adriatic Pipeline (TAP), one of three pipelines in various stages of construction, is designed to bring natural gas from Azerbaijan to Turkey and southern Europe. The TAP began construction in 2015 and is due to begin operations by 2020.
Liquefied natural gas (LNG) imports accounted for about 9% of Italy's total natural gas supply in 2016, most of which came from Qatar.
La Spezia – LPG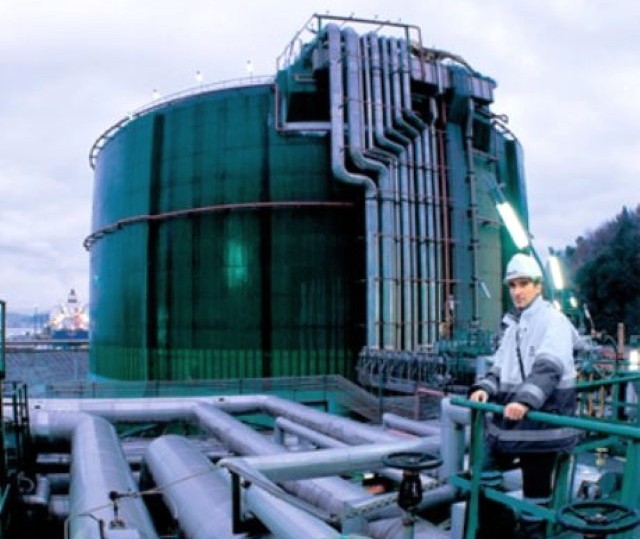 The port of La Spezia is one of the main import terminals for Liquified Petroleum Gas (LPG). Indeed, until 2009 it was the only such terminal. Regasification takes place at the Panigaglia plant commissioned in 1971 and located on the West side of the Gulf of La Spezia between Fezzano and Le Grazie on the road to Portovenere. It is owned by Snam (which was a subsidiary of Eni until 2012).
Panigaglia was unloading large amounts of LNG as recently as 2012, but by 2013-15 it was hardly operating at all. In response to diminishing demand, the terminal took one of its 50,000m3 storage tanks offline in 2015, but with the resurgence of LNG in the Italian market the tank was brought back online in 2020. Despite this newly restored capacity, storage at the 100,000m3 Panigaglia terminal remains smaller than at Italy's other two other LNG terminals, the 137,500m3 Toscana LNG Terminal and the 250,000m3 Adriatic LNG Terminal.
Opposition groups have cited the low utilization rates of Italy's operating LNG terminals to call into question the necessity for such extensive LNG infrastructure in the country. According to Food and Water Europe's 2019 profile on Italy's gas use, "Between January 2012 and March 2019 all Italian LNG terminals were used at only ~31% of their capacity."
Safety issues associated with the transportation of LPG have also been raised – especially after the Viareggio rail disaster of 2009 in which nine people died and twenty-six were injured.