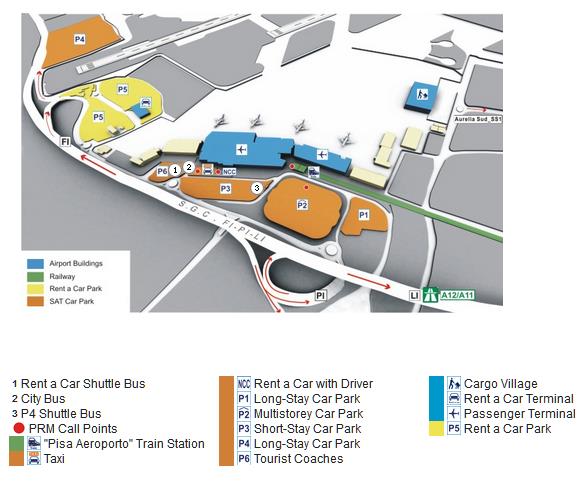 There are three main airports that people use to get to the Lunigiana: Bergamo, Genova & Pisa. Of these, Pisa is by far the most convenient and popular. Car travel times/toll costs from these airports to Pontremoli are as follows:
Bergamo: 2hrs 14m: 24.90eu toll (2019)
Genova: 1hr 40m: 14.60eu toll (2019)
Pisa: 1hr 01m: 10.40eu toll (2019)
Most people coming to the Lunigiana by air will arrive at Pisa Airport. Some will then get the Pisa Mover tram to Pisa Centrale (€5 each way) to catch the train whilst others will hire a car from either the on-site facility or from one of the off-site hubs.
Getting to the Lunigiana from Pisa Airport by car
After arriving Pisa airport, proceed through passport control, baggage reclaim and customs to enter the main concourse. Walk straight ahead through the exit doors to outside. Turn right. After 100yds or so you will see the bus stop at which you get the bus to the hire car pickup area (no charge). The first stop for the bus is the hire car terminal building which contains reception desks for all the main hire companies – Hertz, Europcar, Sixt, Thrifty etc – together with a bar (WCs to RHS of bar).

Having checked in you walk to the car compound. Before starting off do check the controls – we once got to the first toll booth and couldn't work out how to lower the windows to pick up the entry ticket!

Leaving the car hire area (hire terminal your left), turn right at the T-junction and then continue a short distance until you come to a (small but very busy) roundabout where you turn left. Carry straight on at the next roundabout and continue parallel to the autostrada until finally you reach a large roundabout. Take the first turning on the right (signed A12 Autostrada Genova). Go up the slip road and join the autostrada. After a couple of miles you will encounter toll booths. Use any booth (except ones signed "Telepass" & "ViaCard") and pick up a ticket. Leaving the booth, take the A12 slip road to the right.

Continue on the A12 for about 40 minutes until you see signs for the A15/E33 to Parma and follow these up the Magra valley until you come to your preferred point of exit – typically Aulla or Pontremoli.
Airport car hire advice
All the major car hire companies are represented at Pisa Airport. You can walk the 400yds from the terminal building to the car hire building or alternatively take the shuttle bus – the route is well marked in red tarmac (turn right as you exit the terminal building).
Car hire bookings are made through Auto Europe. Our recommendations are as follows:
Only book with a hire company that has a facility on-airport. Do not be tempted by the apparently lower prices offered by off-airport companies who use a private shuttle bus to enable you to access their facilities.
Go for a "drive away full, return full tariff" and avoid Goldcar/Rhodium (they currently score poorly on user surveys). Should you take our advice make sure that you have some low denomination notes with you when you arrive at the petrol station to fill up at the end of your holiday. The petrol station at the airport is often unmanned and the credit card machine is unreliable (to say the least).
If you feel the need to have additional insurance to eliminate the extortionate theft/accident excess required by the car hire company (and you should!) we recommend taking out an annual car hire excess insurance policy with Questor. We wouldn't recommend Auto Europe's insurance offering (or indeed the insurance offered by the care hire firm at the airport for that matter).
At one time breakdown insurance was universally included in the standard rental package. Not any more! Whether you want to pay extra for this service is up to you and your attitude to risk.
Firefly (owned by Hertz) often offers the best deal – except at very busy times you may well find that they will include a second driver for free.
At one time snow chains were a chargeable extra – if required they are now provided as standard at no extra cost. (For full details click here).
Don't hire a separate SatNav – the majority of vehicles for hire now have them fitted by the manufacturer. To avoid fiddling with the language settings (not always easy as an instruction manual may not be provided) you may prefer to bring your own SatNav from the UK, but don't forget to remove it before returning the vehicle!
Sadly, some hire company personnel delight in finding fault with the vehicle when you return it and immediately present a (hefty) bill for repairs. Therefore, it's essential to photograph the entire external surface of the car before leaving the airport – do so even if it's late, you're tired and desperate to get on, or it's late at night/raining. Be sure also to photograph the area beneath the front bumper. We've been caught out twice and don't intend to be caught out again. If you see any damage not recorded on the rental agreement, take the agreement back and get it updated.
When renting hatchbacks, check that there is a rear parcel shelf – often they are missing. If so, get the omission noted on the rental agreement.
Small cars are the best as many of the roads in Italy are narrow. Facing down a large tractor powering along a country road can be disconcerting when one is driving a large saloon car!
Auto Europe uses dynamic pricing so the cost of a hire varies from day to day and week to week depending on demand. The best time to book is between 10 and 6 weeks before departure. On several occasions we have booked a car many months in advance only to find that a few weeks before departure the price has collapsed. In those circumstances we have cancelled the original booking and then re-booked at the lower price. (Auto Europe allows you to cancel your booking up to 48hrs before pick-up without penalty). The safest thing to do is to book early and then to monitor the car hire price every couple of weeks – using this method the hire charge we paid for a week at the end of January 2017 was reduced from £118 to £28 (both rentals with Firefly)!
Ensure that you have a credit card with you when going to collect your vehicle and that you have at least £2,000 in available credit. This will be required for the deposit. (Debit cards are not generally accepted).
Remember that in Italy you are required to drive with dipped headlights at all times! Also, make sure you know how to operate the windows before you leave the parking lot or you'll have a problem at the first toll booth!
Trains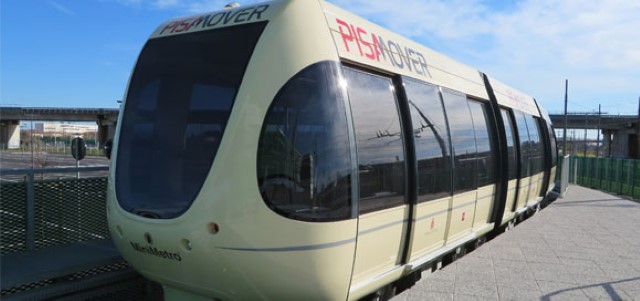 Travelling by train in Italy is generally a stress-free pleasure. Tickets are cheap and the services are both frequent and punctual. Most of the system is electrified. Places well worth a visit include Parma, La Spezia, Lucca and the Cinque Terre.
Note that the station platforms are low and are not well suited to the needs of those with mobility problems. Last minute platform changes are common, but announcements are often given in both Italian and English.
In pleasant contrast to the UK, ticketing is very simple, straightforward and logical:
there are no special deals
there are no discounts for ticket purchase in advance of travel
the price consists of two elements – one directly proportional to the distance between your point of departure and your destination, and the other related to the speed of the train ("supplemento").
As of August 2016, all Regional Trenitalia train tickets come with a specific date and a four-hour timeframe within which you can travel. You can purchase Regional tickets up to four months in advance, but you'll have to choose a travel date when you do (online or otherwise). Tickets purchased online will have a date and a timeframe on them already, so once you print them out you don't need to validate them at the station before you board your train. Tickets purchased at the station, however, either at a ticket window or from the machines only have the date on them – but no time. Those tickets still have to be validated (convalido in Italian) PRIOR to boarding the train, which starts the four-hour validity window. (Remember also to stamp the return portion of the ticket just before you board the return train). If you don't have a validated ticket you could well be fined €50, so be warned.
Buying Tickets
Typically there is a single manned window and a single self-service machine at the smaller stations. For non-Italian speakers it is probably easier to use the machine. These have touch screens and take UK credit cards. Select the English version by touching the Union Jack symbol and then follow the instructions. Note that some machines at some stations will take notes (and also coins) but they will never give you more than €4.95 change! Hence, it's a good idea to have some coins and low denomination notes with you.
Trains on the line from Pontrémoli down to Aulla are always second class Regional trains so no "supplemento" is payable. Tickets can be bought from the guard on the train but these are more expensive than the ones pre-purchased.
Buses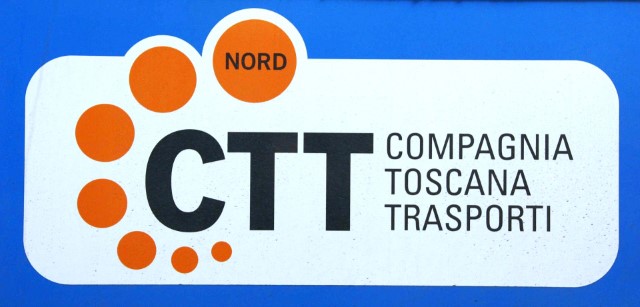 The local bus company is CTT Massa-Carrara. Tickets can be bought using CTT's App, from local tobacconists (tabaccherie) or on board, though note that tickets bought on board are considerably more expensive.
The urban area buses are orange in colour and the extra-urban ones are blue. Service dates and times tend to be synchronised with the dates and times of the street markets in the townships served.