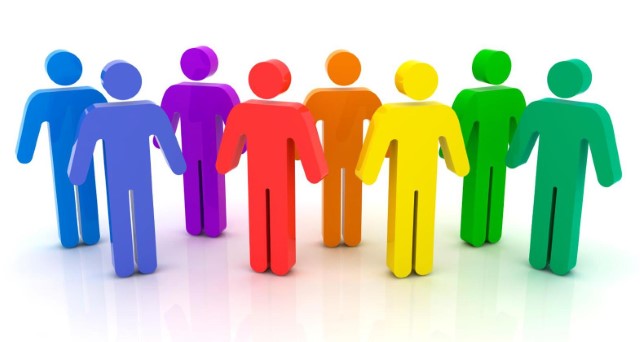 For those interested in the full demographic profile of the Lunigiana a detailed analysis is available on the AdminStat Italia web site.
Family & age distribution
Massa-Carrara is charcterised by a declining, ageing population coupled with a low birth rate and a modest level of immigration.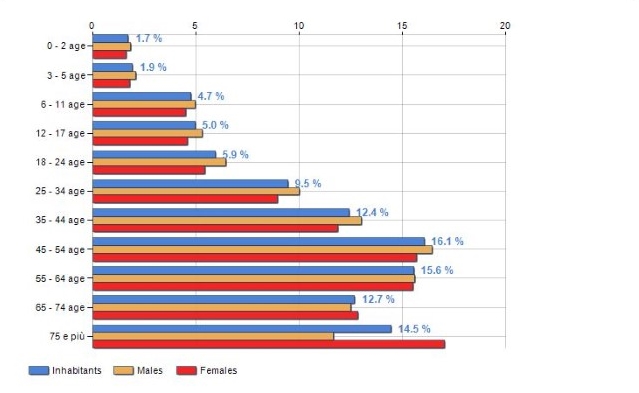 A summary of the characteristics of the area as at 1 January 2019 follows:
Total population 195,048
Life expectancy at birth: Males 81.3, Females 85.2
Birth rate/1000 population 5, death rate 13.1
Mean age of childbearing: 32. Fertility rate 1.02/family (all Italy: 1.27).
Average age in 2019 was 48.4yrs (all Italy: 45.5). This is the 11th highest in the 107 Provinces. The corresponding figure for the UK: 40.1 (source: ONS).
42% of the population were over 55 years old
Ageing index: 243 (174 for Italy as a whole)
51% of the population were single/widowed/divorced
There were 89,005 families, the average component being 2.19
Source: I.Stat
Economy
Detailed data may be found on the 8milaCensus web site.
A summary (based on the year 2011 unless otherwise stated) for the province of Massa-Carrara is presented below:
People in work: 43% (average for Italy 45%)
People with higher education qualifications: 58.7% (average for Italy 55.1%)
People living below the poverty line: 3.4% (average for Italy 3%)
Average income per person in 2015 was 13,890 euro, the lowest of any of the ten provinces of Tuscany (details here)
Over the period 1991-2011 the number of young adults living alone rose threefold from 2% to 6%.
Overall, the Lunigiana is about average in its economic characteristics compared with Italy as a whole.
Non-Italian residents
As at 31 December 2019, 7.3% of the resident population was non-Italian:
35% were Romanians
27% were of African origin
11% were Albanians
2% were UK citizens.
Source: tuttitalia.it
Crime
There are 107 provinces in Italy of which Massa-Carrara (which encompasses the greater part of the Lunigiana) is one. In terms of crime reports per 100,000 people, in 2019 the province ranked 19th at 4,180. For comparison, the number of crime reports per 100,000 people living in Milan was 7,017 – the worst in Italy. (The best rate of 1,493 related to Oristano, Puglia).
Burglary is by far and away the most frequent crime. Theft from the person and internet fraud are the second and third most common. Violent crime is very rare. Full details may be found on the Il Sole 24 Ore web site.
Healthcare
Italy's healthcare system is consistently ranked among the best in the world. In 2000, a World Health Organization report listed it as the 2nd globally, after France. Life expectancy is the 4th highest among OECD countries (83.4 years in 2018) and the world's 8th highest according to the WHO (82.8 years in 2018). Healthcare spending accounted for 9.2% of GDP in 2012, slightly lower than the OECD average of 9.3%. About 77% of the spending is public.
Healthcare is provided to all citizens and residents by a mixed public-private system. The public part is the national health service, Servizio Sanitario Nazionale (SSN), which is organized under the Ministry of Health and is administered on a regional basis.
Although Italy has had a national health service since 1978, there are stark differences in performance between regions. Marche, Molise and Basilicata offer particularly poor standards of care whilst Valle d'Aosta and Liguria offer some of the best.
Comprehensive healthcare statistics for Tuscany may readily be obtained from the Regione Toscana web site. Key elements relating to the province of Massa Carrara as reported in 2016 for 18-69 year olds (unless otherwise stated) are as follows:
29% of males and 26% of females smoke (UK 2018: 16% males & 12% females)
18% are considered at risk of alcohol related illness (21% of males & 14% of females)
28% are overweight and 9% are obese (UK 2018: 35% overweight, 28% obese)
20% are essentially sedentary, taking no meaningful exercise
30% of 14-19 year olds have taken narcotics (mainly cannabis)
42% of all age deaths are associated with diseases of the circulatory system, 26% with tumours and 7% with respiratory illnesses.