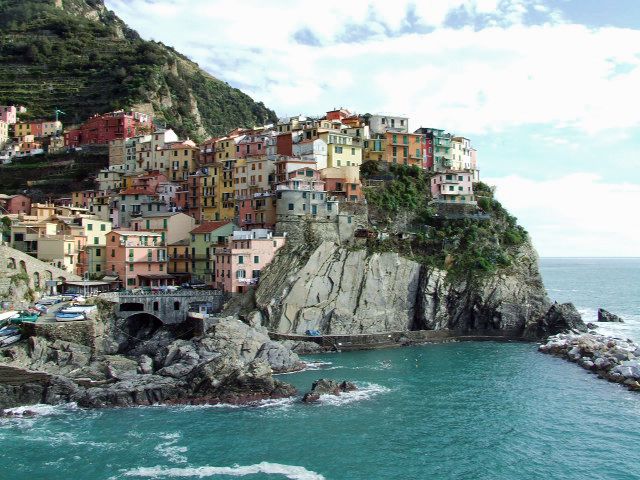 Sightseeing
At the head of the Magra valley is Pontremoli, a small mediaeval town located at the confluence of the rivers Magra and Verde, which has a good range of shops and restaurants and the Castello del Piagnaro which houses the intriguing collection of Statue Stele.

If you like the coast, visit the Cinque Terre, the five historic villages clinging to the Ligurian coast and also the beautiful resorts of Portovenere and Lerici overlooking the Gulf of Poets. In season, a ferry runs between the villages and there are numerous seafood restaurants.

If sophisticated city life is more to your taste, try visiting La Spezia – an easily accessed and much underrated city blessed with palm lined seafront gardens,  fascinating museums and a fresh food market hard to beat for variety and low prices – a must for fish lovers. In the opposite direction – 75mins by train from Pontremoli – is Parma with its elegant shops, impressive art galleries and active classical music/opera scene (it was the home of Giuseppe Verdi). The city continues to be proud of its French cultural heritage which is still very much in evidence. (Napoleon's second wife, Empress Marie Louise, was Duchess of the province from 1817 until her death in 1847). Whilst there, do try the authentic Parma ham and Parmesan cheese.

Drive down the magnificent Garfagnana Valley and visit Grotto del Vento (the Wind Cave), continuing over the Alpi Apuane to Carrara for a visit to the marble quarries. Alternatively take the train to Lucca, one of Italy's finest mediaeval treasures. The centre is relatively unspoilt and is sprinkled with palazzi, towers and almost countless splendid churches. Hire a bike to ride round the 3 miles of wall and through the traffic free town.

Florence is a 'once in a lifetime experience' – try taking the early train as driving into Florence is difficult – or take the car part way and complete your journey by train. Oh, and you mustn't miss a visit to Pisa with its Leaning Tower and impressive Baptistery.
A Day at the Seaside
Why not spend a day at the free beach located South of the Magra river estuary at Marinella di Sarzana? The sand is good, lifeguards are on patrol, beach furniture is available for hire at modest rates and there are plenty of cafes to refresh you after a swim. Click here for details and directions.