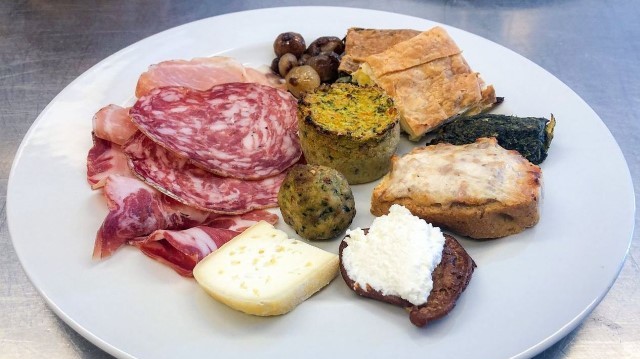 The Lunigiana is the triangle marking the border between Tuscany, Liguria and Emilia Romagna and has always been crossed by pilgrims, traders and merchants in large number. The preferences and passions of such people is vary much apparent in the architecture, language and food of the region.

With regard to food, the Lunigiana has adopted many specialities from adjoining regions. One example is PESTO from Genoa (a sauce made from pine nuts, garlic, fresh basil and cheese).
Local Specialities
TORTA D'ERBE is a local pie made with a base of very light pastry filled with herbs, green vegetables, leeks and spinach. A delicious snack.

TESTAROLI are the pride of Lunigiana cuisine. You will not find them anywhere else in Italy. They are made from a batter of wheat flour, water and salt which is cooked in large cast iron pans with lids. They form a sort of pancake which is then boiled and cut up into small strips and is usually served with Pesto

PANIGACCI I is another speciality of Lunigiana. Like Testaroli they are made of a batter but one which is cooked in red hot clay dishes over an open fire. Panigacci are then served as hot crispy pancakes which you then spread with a soft Stracchino cheese and fill with mixed cold meats such as Parma ham, salami etc. The village of Podenzana is famous throughout Italy as the home of Panigacci.

FOCACETTE are similar to panigacci but made with maize flour and can be sampled at the many local festas and sagras.

FOCACCIA is well known throughout Italy but particularly good in this region. It is leavened bread cooked with olive oil and salt; particularly good when just out of the oven and still warm in the mornings for breakfast. Focaccia can also be found made with onions olives and sausages.

For pasta there are the famous TORTELLI , TORTELLONI OR PANSEROTTI, which are similar to ravioli but stuffed with ricotta and spinach and served with parmesan cheese, fresh sage and melted butter.
PAPPARDELLE Wide ribbon pasta usually served with hare sauce (ragù di lepre). Also often served with a sauce made from wild boar (cinghiale)

CINGHIALE or wild boar, is hunted in the Lunigiana hills and is a staple in many of the restaurants. Often cooked 'al umido' (stewed) and served with polenta.

You will see many stalls in the local festas and indeed in many of the local grocery shops (alimentari) a plump beige/brown mushroom in wicker baskets lined with chestnut leaves. The inhabitants of Lunigiana look forward to the beginning of the season when these funghi (mushrooms) begin to grow. They are a great delicacy and expensive to buy. You will find them frequently served in restaurants with pasta in a sauce or often with cream in a sauce with meat. They are in fact the 'boletus edulis – "cep " in French or PORCINI in Italian. You can buy them fresh to cook there, or dried to take home.

The cheeses, such as pecorino, are served in most of the restaurants or sold in the grocers. Pecorino Toscana is particularly good. Other good cheeses are gorgonzola with or without MASCARPONE, STRACCHINO (creamy cheese), fresh PARMIGIANO.

A great part of Lunigiana is covered by chestnut woods and chestnuts at one time constituted the local peoples livelihood before and during the war. There are many local dishes where the main ingredient is chestnut flour but the most popular is probably PATTONA – a chestnut batter cooked in clay dishes and served with ricotta and salami. Many of the festas held in the region will serve dishes based on chestnuts.
Wines
Although Lunigiana is not famous for its wines, most restaurants make their own from grapes they collect from the South of Tuscany. Wine here is of course really very reasonable to buy. You can buy it from the supermarkets, direct from the producer or small shops such as grocers (alimentari) or the fruit/veg shop at Scorcetoli. (Take your own bottles here and fill up for about €1.90 a bottle and it is very pleasant!)
The area of Lunigiana is surrounded by well-known vineyards. To the south is Chianti, which produces the most famous wines of Italy; other Tuscan wines worth a try include Vernaccia, Aleatica, Brunello di Montalcino and Nobile di Montepulciano. The Cinque Terre produce pleasant dessert wines such as Sciacchetra.