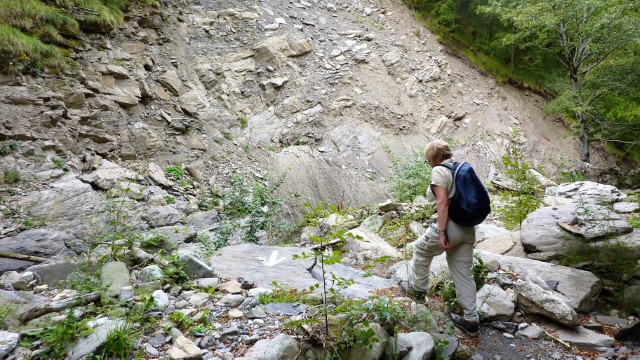 The High Lunigiana is a wonderful place for the keen mountain walker. The Apennine Ridge stretches for 1000km from the French border to the Adriatic and provides endless opportunity for exploration and enjoyment. Summer conditions are generally benign but in winter the combination of snow/ice and ever changing weather will keep even the most experienced on their toes.

Poor rock quality limits opportunities for keen climbers to exercise their craft, but there is plenty of challenging scrambling to enjoy. Via Ferrata can also be found, but the longest and most exhilarating are located in the Alpi Apuane.

Footpaths are waymarked by the Club Alpino Italiano ("CAI") and in their simplest form consist of painted red & white bands applied to walls, rocks or trees. From time to time you will also see faded green and yellow markings – these were once used indicate the Trekking Lunigiana stages but are not now maintained.
A useful drawing (albeit with explanatory text in Italian) which describes in detail the various signs you will encounter as you make your way along recognised routes may be found here.
Many of the popular routes involve substantial ascents/descents and in consequence it's easy to underestimate the time required to complete one's journey. A helpful chart which links height to be ascended/descended, distance to be travelled and walking time may be found here.
Upland access, right to roam, flora & fauna …..
No one will mind if you wander around the countryside outside the confines of the village – keep to paths if you can, but don't feel too inhibited about going off-track. Generally the rule is that you can go anywhere that is uncultivated and unfenced provided that you don't cause damage, light fires or leave litter.

Strictly speaking, the collection of flora – especially mushrooms – requires a licence from the Comune (town hall) unless one is permanently resident in the village. No one complains, however, when we collect chestnuts and hazelnuts without a licence. (The villagers' main concern is that people who come from out of area would, unless regulated, strip the woods of all edible flora).