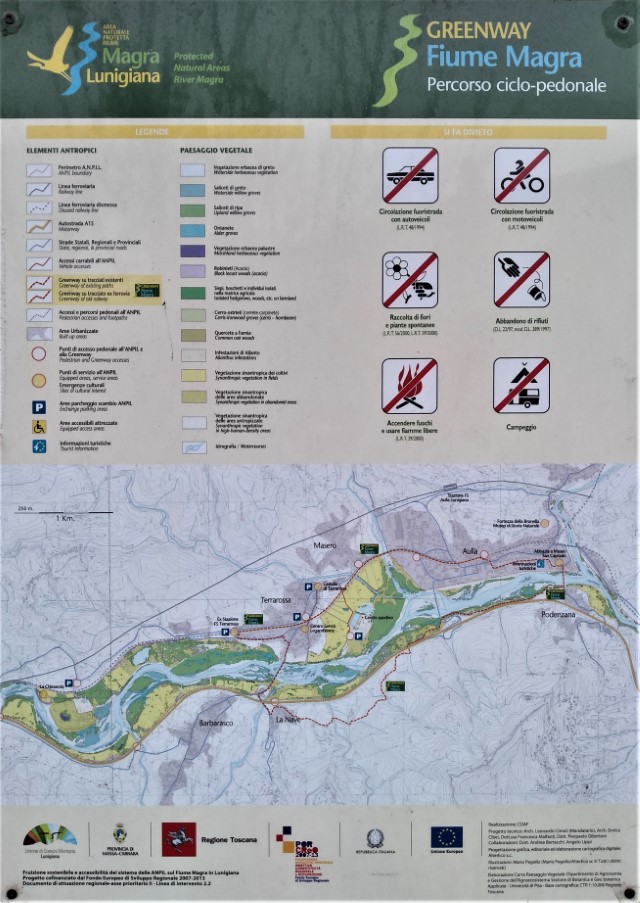 The Greenway del Fiume Magra is an easy 6 mile circular walk/bike ride at roughly constant altitude. It starts at the Terrarossa-Tresana station, now disused, and runs along the route of the old single track railway which, at least to the outskirts of Aulla, has mostly been surfaced in asphalt. Once there it follows urban streets to the southernmost bridge across the Magra. At the Western bank of the river the route turns North, initially passing between the A15 autostrada and the river but later crossing the A15 to run to the West.
The Eastern section of the route is suitable for road bikes as the surface is generally asphalt or concrete, though there is a small amount of gravel to contend with. It is generally raised above the surrounding land on an embankment which is up to 20m high in places and the section from the sports ground North of Aulla into the town itself is provided with street lights. The Western section mainly comprises gravel track and is really only suitable for pedestrians and all-terrain or mountain bikes. It passes though pleasant woodland, though there is always the noise of the A15 to contend with.
A ZIP file containing the map in KMZ format and the route in GPX format may be downloaded here.