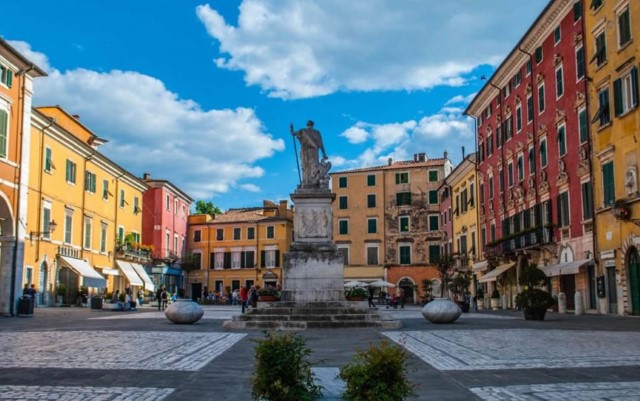 There were settlements in the area as early as the 9th century BC, when the Apuan Ligures lived in the region. The current town originated from the borough built to house workers in the marble quarries created by the Romans after their conquest of Liguria in the early 2nd century BC. Carrara has been linked with the process of quarrying and carving marble since the Roman Age. Marble was exported from the nearby harbour of Luni at the mouth of the river Magra.
In the early Middle Ages it was a Byzantine and then Lombard possession. The town became more prominent after Emperor Otto I (912-973) gave it to the Count-Bishops of Luni.
Carrara turned itself into a city-state in the early 13th century; during the struggle between Guelphs and Ghibellines, Carrara usually belonged to the latter party. The Bishops acquired it again in 1230, their rule ending in 1313 when the city was given in succession to the Republics of Pisa, Lucca and Florence. Later it was acquired by Gian Galeazzo Visconti of Milan.
After the death of Filippo Maria Visconti of Milan in 1447, Carrara was fought over by Tommaso Campofregoso, lord of Sarzana, and again the Malaspina family, who moved the seat of their signoria there in the second half of the 15th century. Carrara and Massa formed the Duchy of Massa and Carrara from the 15th to the 19th century. Under the last Malaspina, Maria Teresa, who had married Ercole III d'Este, it became part of the Duchy of Modena.
After the short Napoleonic rule of Elisa Bonaparte, it was given back to Modena. During the turmoil leading to the unification of Italy, Carrara was the seat of a popular revolt led by Domenico Cucchiari, and was a center of Giuseppe Mazzini's revolutionary activity.
At the end of the 19th century Carrara became the cradle of anarchism in Italy, particularly among the quarry workers. These individuals, together with the stone carvers, had radical beliefs that set them apart from others. Ideas from outside the city began to influence the Carrarese, and both anarchism and general radicalism became the norm. According to a New York Times article of 1894 many violent revolutionists who had been expelled from Belgium and Switzerland went to Carrara in 1885 and founded the first anarchist group in Italy. Anarchist marble workers were the driving force behind organised labour in the quarries and in the carving sheds. Not surprisingly, therefore they were the main protagonists of the Lunigiana revolt in January 1894.
In 1929, the municipalities of Carrara, Massa and Montignoso were merged in a single municipality, called Apuania but in 1945 the previous situation was restored.
Carrara is the birthplace of the International Federation of Anarchists (IFA), formed in 1968.