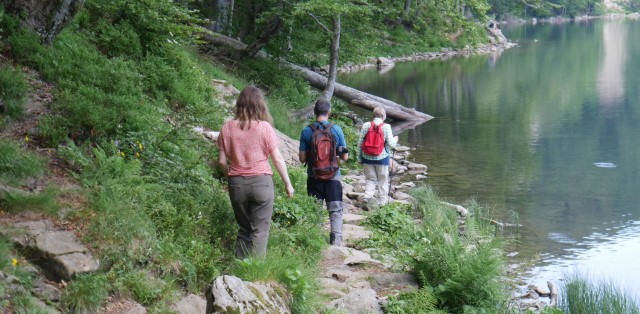 Walking & hiking opportunites in the Lunigiana are many and varied. Many of the mid-level routes pass through woodland though there are plenty of alpine meadows to traverse. At high level (ie above, say 1500m) the landscape is characterised by heathland interspersed with rocky outcrops. The geology is very complicated and there are many faults, making the area one of the most seismically active in the Northern Apennines (see here for greater detail).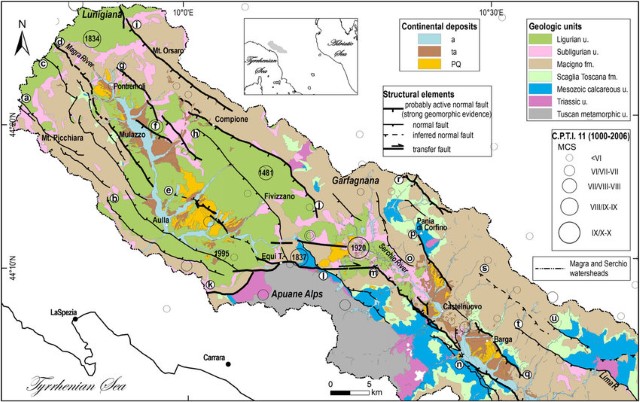 Generally speaking, chestnut woods occupy the lower woodland (300-750m ASL) with oaks then beech occupying the higher ground. There are many forestry tracks and CAI signed paths, though most of the latter are on routes leading from the valleys to the mountain passes. In other words, once one leaves the valley floor the walking becomes progressively more demanding and there are few circular routes of constant, or near constant, elevation. Although one is rarely too far from civilisation it is possible to walk all day without seeing another soul.
When the weather is fine, the area has a benign feel to it. In poor conditions, however, it's easy to get lost, wet and cold, and find oneself in danger. For this reason it's foolish not to leave details of where one is going and when one is expected back before embarking on hikes of any significant length at any significant altitude.
Club Alpino Italiano
The Club Alpino Italiano (the "CAI") is the senior Italian alpine club which stages climbing competitions, operates alpine huts, marks and maintains paths, and is active in protecting the Alpine environment. Its 300,000+ members receive a good quality monthly magazine (Montagne360), receive discounts at many rifugios, and are protected by an insurance policy which covers any costs if one has to be rescued. (For comparison the Ramblers in the UK have 100,000+ members).
Within the Lunigiana there are five CAI Sections as follows:
The CAI are famed for their warm and friendly social events, often put on in their rifugios/baitas and featuring excellent home made food and local wine.
Subscription costs for 2020 were:
Ordinary member: 43 euro
Ordinary junior member (born beteeen 1995 and 2002): 22 euro
Young member (born 2003 onwards): 16 euro
Additional family member (living at same address): 22 euro
Additional fee for new members: 5 euro
Standard of difficulty of CAI signed routes
Determining the degree of difficulty of a route, in accordance with objective criteria, is impossible, since our perceptions are based on our own experiences, limits, feelings and psychological reactions. With these variables in mind, Club Alpino Italiano has developed a trail rating system to indicate the relative difficulty of hiking routes. This scale takes into account three fundamental objective parameters: vertical drop, planimetric distance and trail markings.
T = Turistico (Tourist – easiest)
T routes take in roads, mule tracks and easy trails. They are generally fairly short in distance and well marked. The elevation gain is less than 500m (approx. 1600 ft). These routes do not require hiking experience or physical training.
E = Escursionistico (Hiker – intermediate)
E routes almost always comprise footpaths or unpaved trails and may include sections of varied terrain (meadows, dirt, rocks, scree) and are usually indicated with trail markers. To safely enjoy E rated trails one should have a good sense of orientation, as well as some hiking experience and knowledge of mountainous territory. E rated trails require appropriate footwear, clothing and equipment. The elevation gain generally ranges from 500m to 1000m (approx. 1600 to 3300 ft).
EE = Escursionisti Esperti (Expert hikers)
EE routes are not always marked and require a strong ability to move about in various types of mountain terrain. These routes can be trails or more subtle paths that cross over difficult and steep terrain. Slippery scree and small sections of snow and ice, which can be crossed with the use of mountaineering equipment, may be encountered. EE trails are for experienced hikers with sure footing, in strong physical condition and with a good sense of direction. Venturing out on an EE trail requires proper footwear, clothing and equipment. The elevation gain is usually more than 1000m ( approx. 3300 ft).
EEA = Escursionisti Esperti con Attrezzatura alpinistica (Expert hikers with climbing equipment)
These routes require the use of climbing equipment (ropes, harness, helmet, etc.). EEA routes can include traditional climbing routes, vie ferrate or trails with cables and ladders. Hikers exploring EEA routes need to have alpine terrain experience. They must also understand how to use technical climbing equipment safely and be comfortable with exposure.
EEAG = Escursionisti Esperti Attrezzati Ghiaccio (Expert Hikers with glacier climbing equipment)
The EEAG rating is similar to EEA, but includes the ability to use glacier equipment safely (crampons, ice axe, ropes, etc.).