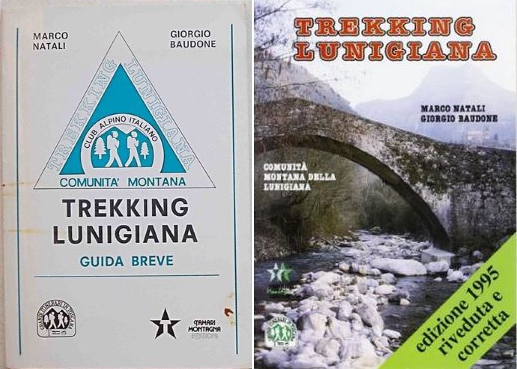 Trekking Lunigiana was a serviced hiking route, consisting of 14 main stages and three variants inaugurated by the Comunità Montana della Lunigiana in 1986. The route passes along cart tracks and footpaths featuring unspoiled countryside, delightful views, and ancient castles and churches. The overall length of the route is 238.5km, 151.5km of which features sheep tracks and dirt roads. The circuit is marked by white-red arrows and with a triangle featuring a "TL" symbol. The stages vary between 11 and 20 kilometers in length and are usually undertaken at a pace of 2-3 km per hour. Dedicated "posto tappas" (staging posts or stopping places) were originally set up to provide overnight accommodation at the end of each stage, but as far as we are aware all but the Ostello la Stele at Treschietto are now closed.
Confusingly, the maps, guide books and information boards are at variance with one another as regards not only the route itsef but also the positions of staging posts. On the ground, however, the waymarks and signage are pretty clear and it's quite difficult to get lost except for short periods.
The stages of the route are generally accepted to be as follows:
Aulla – Villa di Tresana
Villa di Tresana – Montereggio
Montereggio – Coloretta di Zeri
Coloretta di Zeri – Cervara
Cervara – Groppoli di Valdantena
Groppoli di Valdantena – Serravalle
Serravalle – Treschietto
Treschietto – Tavernelle
Tavernelle – Comano
Comano – Sassalbo
Sassalbo – Casola
Casola – Monzone Alto
Monzone Alto – Fosdinovo
Fosdinovo – Aulla.
The route, verified by survey over the period 2018-20, may be found on the Waymarked Trails web site.