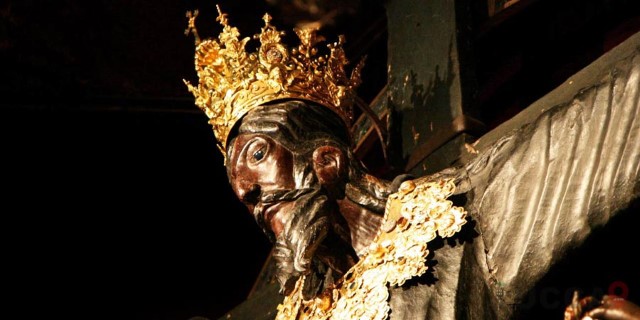 The Volto Santo (or the Holy Face of Lucca) is a Crucifix made of wood located in a small chapel within the San Martino Cathedral in Lucca. The legendary image is said to have appeared miraculously. Many critics are of the opinion that the present Volto Santo is a copy of the original which was badly damaged as a result of pilgrims breaking off pieces to take home. Current research indicates that the image was crafted between 11th and 13th century.
Il cammino
The route of the Holy Face passes through two areas, the Lunigiana and the Garfagnana which, although very different from each other, share significant historical, landscape, anthropological and geographic elements that will surprise anyone who starts walking and visits these places.
The stages present no great technical dificulty and can be tackled by anyone with a good attitude to walking and moderate training.
In detail:
Stage 1 Pontremoli – Lusignana: Km 18 – Difficulty: E – Average travel time: 7 h
Stage 2 Lusignana – Bagnone: Km 14 – Difficulty: E – Average travel time: 7 h
Stage 3 Bagnone – Monti: Km 22 – Difficulty: E – Average travel time: 8 h
Stage 4 Monti – Fivizzano: Km 17 – Difficulty: E – Average travel time: 6 h
Stage 5 Fivizzano – Argegna: Km 20 – Difficulty: E – Average travel time: 6 h
Stage 6 Argegna – Piazza Al Serchio: Km 11 – Difficulty: E – Average travel time: 5 h
Stage 7 P.za Al Serchio – Castelnuovo Garf: Km 21- Difficulty: E – Av travel time: 8 h
Stage 8 Castelnuovo Garfagnana – Barga: Km 27 – Difficulty: E – Av travel time: 9h
Stage 8 Castelnuovo Garfagnana – Barga: Km 27 – Difficulty: E – Av travel time: 9 h
Stage 9 Barga – Borgo a Mozzano: Km 21 – Difficulty: E – Average travel time: 8 h
Stage 10 Borgo a Mozzano – Lucca: Km 28 – Difficulty: E – Average travel time: 9 h